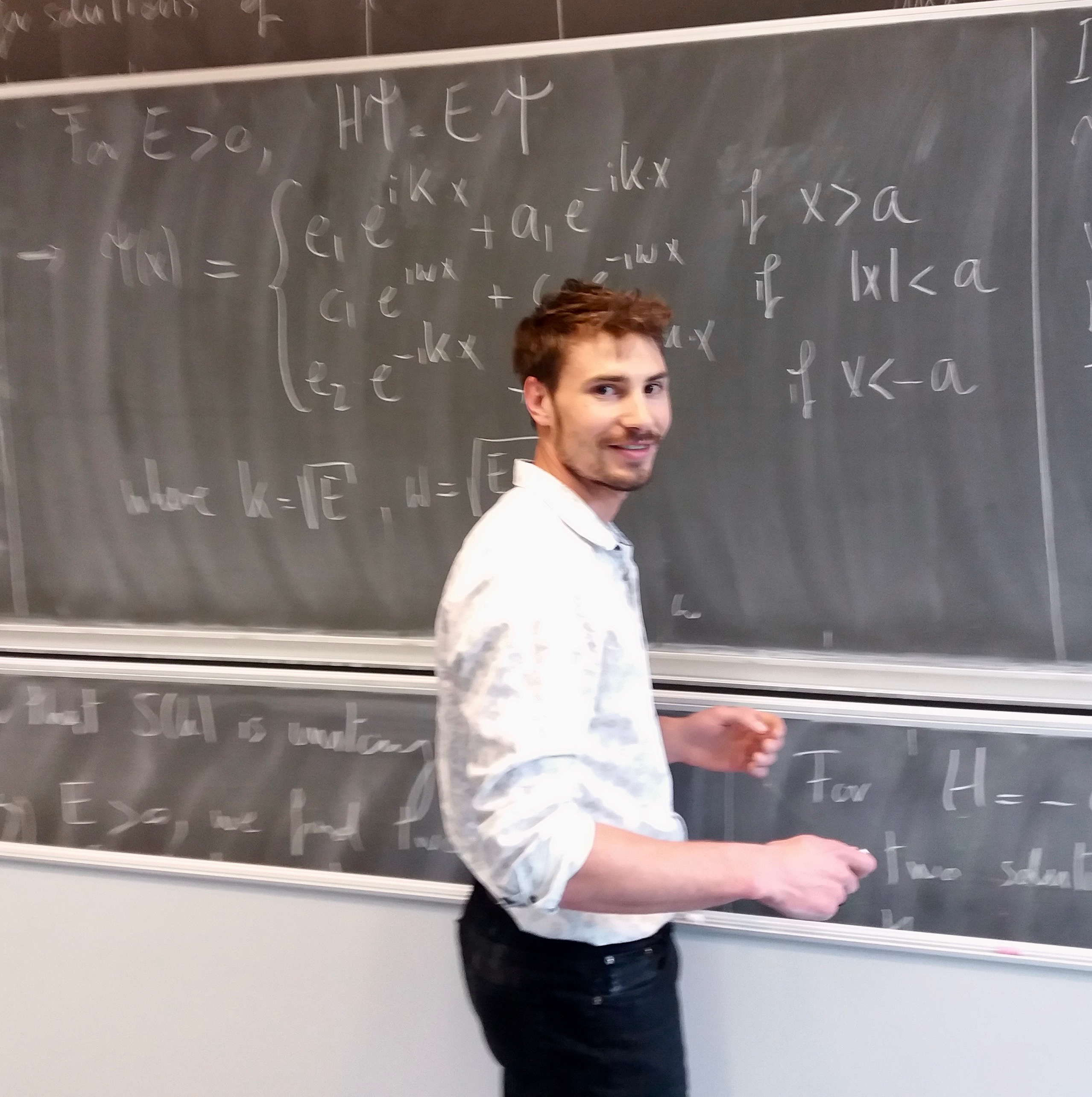 Gaultier Lambert
About me
My mathematical interests lie at the interface between probability theory, analysis, combinatorics and mathematical physics. My research focuses on random matrices, statistical physics, and Gaussian Multiplicative Chaos.
Contact
glambert at kth.se
ORCID ID 0000-0001-5260-2239
Google scholar webpage
Dept. of Mathematics
KTH Royal Institute of Technology
Lindstedtsvägen 25, Stockholm

If you are interested in doing a Master's thesis in probability theory related to any of the above topics and you would like to be working with me, I am actively looking for students! So, please do not hesitate to contact me!
Appointments
Events
Random Matrices and Scaling Limits 28 Aug.- 13 Dec. 2024, , Institute Mittag-Leffler, Stockholm (co-organizer).
High Dimensional Statistics and Random Matrices, June, France
XVIII Brunel - Bielefeld Workshop Random Matrix Theory and Applications. December 16-17, 2022, Brunel University London.
Papers and preprints
My papers are all available on arXiv.
Teaching
At the University of Zurich
At KTH Royal Institute of Technology
Seminar talks
2022:
Applications of the theory of Gaussian multiplicative chaos to random matrices, University of Michigan (online)
Normal approximation for traces of random unitary matrices, IMPA (online)
Approximations Gaussienne pour les statistiques de matrices aléatoires unitaires, Mini cours Séminaire MEGA, Institut Henri Poincaré, Paris
Normal approximation for traces of random unitary matrices, University of California San Diego (online)
2021:
Universality for free fermions point processes, One World mathematical physics seminar of the IAMP (video).
Fluctuations of β-ensembles in the high temperature regime, Analysis and Probability seminar, TU Dresden (online).
Normal approximation for traces of random unitary matrices, Rhein-Main Kolloquium Stochastik (online).
The edge scaling limit of the characteristic polynomial of the Gaussian β-ensembles, Groupe de Travail de modélisation stochastique, Laboratoire de Probabilités, Statistique et Modélisation, Paris
Applications of the theory of (subcritical) multiplicative chaos to random matrices, Séminaire MEGA, Institut Henri Poincaré, Paris (video)
On the characteristic polynomial of the Gaussian β-ensemble, North British Probability seminars, University of Edinburgh (online)
Applications of the theory of (subcritical) multiplicative chaos to random matrices, Korea Institute for Advanced Study (online)
2020:
On the characteristic polynomial of the Gaussian β-ensemble, Seminar on Integrable Systems and Mathematical Physics at SISSA, Trieste (online)
On the characteristic polynomial of the Gaussian β-ensemble, Probability Seminar, Durham University (online)
What is... a random unitary matrix?, Zurich graduate colloquium
Application of Stein's method to linear statistics of beta-ensembles, Random matrix theory seminar, Oxford University (online)
Fluctuations of β-ensembles in the high temperature regime, Bielefeld-Melbourne Mathematical Physics seminar (online)
Applications de la théorie du chaos multiplicatif Gaussien aux matrices aléatoires, Séminaire Probabilité et Statistique, Département de Mathématiques d'Orsay (online)
2019:
Multivariate normal approximation for traces of random unitary matrices, Combinatorics Seminar, Ohio State University
Multivariate normal approximation for traces of random unitary matrices, Columbia/Courant joint Probability seminar, New York
How much can the eigenvalues of a random Hermitian matrix fluctuate?, Oberseminar Calculus of Variations and Applications, University of Munich (LUM)
Applications of the theory of Gaussian multiplicative chaos to random matrices, Random Matrix Seminar, KTH Royal Institute of Technology
Application de la méthode de Stein aux statistiques linéaires des β-ensembles, Séminaire Analyse, Université de Strasbourg
2018:
How much can the eigenvalues of a random Hermitian matrix fluctuate? Seminar on stochastic processes, ETH Zürich
How much can the eigenvalues of a random Hermitian matrix fluctuate? Seminar in Probability Theory, University of Basel
Stein's method for normal approximation of linear statistics of beta-ensembles, Mathematical Physics Seminar at Geneva University
Stein's method for normal approximation of linear statistics of beta-ensembles, Queen Mary University of London
Gaussian Multiplicative Chaos and Random Matrices, Imperial College London
2017:
Fluctuations of smooth eigenvalues statistics for unitary invariant ensembles of random matrices, University of Helsinki
Fluctuations of smooth eigenvalues statistics for unitary invariant ensembles of random matrices, Alfréd Rényi Institute of Mathematics, Budapest
Application de la méthode de Stein aux statistiques linéaires des beta-ensembles, Université de Lille
Stein's method for normal approximation of linear statistics of beta-ensembles, KTH Royal Institute of Technology
The Law of large numbers for the maximum of the log-characteristic polynomial of Unitary invariant ensembles, University of Bristol
CLT for Beta ensembles with a rate of convergence in total-variation distance, Institut de Mathématiques de Toulouse
2016:
Eigenvalues of Random Matrices and Multiplicative Chaos, University of Uppsala
Fluctuations of eigenvalues of normal random matrices, University of Helsinki
Fluctuations of linear statistics of determinantal processes, Geometric Functional Analysis and Probability Seminar, The Weizmann Institute of Science
Fluctuations of linear statistics of determinantal processes, Horowitz Seminar on Probability, Ergodic Theory and Dynamical Systems, Tel Aviv University
2015:
Fluctuations of linear statistics of determinantal processes, Stockholm-Uppsala Analysis and Probability Day
Gaussian and non-Gaussian limit theorems for some determinantal systems of particles, KTH Royal Institute of Technology
Conferences and Workshops
Coulomb gases and universality, Paris, Dec. 2022.
Talk: Scaling limits of the Gaussian beta-ensemble characteristic polynomial.
Random media and large deviations, a conference in honor of Ofer Zeitouni's 60th birthday. October 21-24, 2022, Courant Institute, New York.
Random Matrices and Random Landscapes, Conference in honour of Yan Fyodorov's 60th birthday, July 2022.
Talk: Universality for free fermions
Random Matrices and Beyond, A conference in celebration of Kurt Johansson's 60th birthday. KTH, Stocxkholm, June 2022 (co-organizer).
Determinantal and permanantal point processes, quantum physics and signal processing. ENS Lyon, June 2022.
Mini course: Universality for free fermions
Workshop Excursions in Integrability, SISSA, Trieste, May 2022.
Talk: Universality for free fermions
XVII Brunel–Bielefeld Workshop on Random Matrix Theory and Applications. , Dec. 2021.
Talk: On quantum statistics transmutation and the Ginibre ensemble (online)
Mini-Course: Introduction to fluctuations of β-ensembles, MSRI, Berkeley, Oct. 2021.
Integrable structures in random matrix theory and beyond, MSRI workshop, Berkeley, Oct. 2021
Talk: The edge scaling limit of the characteristic polynomial of the Gaussian β-ensembles
Summer Workshop on Statistical Physics and Machine Learning, Les Houches, August 2020

New Directions in Mathematics of Coulomb Gases and Quantum Hall Effect, Institute Mittag-Leffler, Stockholm, July 2019

Summer school XI on Probability and Mathematical Physics in Ghiffa, Italy, Sep. 2018
Mini-course on β-ensembles
Workshop on Gaussian Fields in Random matrix theory , Institute Mittag-Leffler, Stockholm, June 2018
Talk: Stein's method for normal approximation of linear statistics of beta-ensembles
40th conference on Stochastic Processes and their Application, Chalmers University of Technology, Gothenburg, June 2018
Talk: Stein's method for normal approximation of linear statistics of beta-ensembles
Research program at PCMI on Random Matrices, Park City, July 2017
Critical phenomena for random matrices and integrable system, Université catholique de Louvain, June 2017
Talk: The Law of large numbers for the maximum of the log-characteristic polynomial of unitary invariant ensembles.
ProbabLY ON random matrices, ENS Lyon, April 2017
Talk: Random matrices and Gaussian Multiplicative Chaos
Random Matrices and Determinantal Process, CIRM Marseille, March 2017
XII Brunel-Bielefeld Workshop, Brunel University London, December 2016
Talk: Transition from random matrix to Poisson statistics
Optimal and random point configurations: from statistical physics to approximation theory, Institut Henri Poincaré, Paris, June 2016
Workshop on Random matrix theory and strongly correlated systems, University of Warwick, April 2016
XI Brunel-Bielefeld Workshop, ZIF Bielefeld, December 2015
Stochastic Processes and Random Matrices, Les Houches Summer School, July 2015
Warsaw Summer School in Probability, University of Warsaw, June 2015
Talk: Free fermions confined in a Gaussian potential
Etats de la recherche en matrices aléatoires, Institut Henri Poincaré, Paris, December 2014
Mathematics Meets Physics, on the occasion of Antti Kupiainen's 60th birthday, University of Helsinki, June 2014
Workshop on Random matrices and Jacobi operators, Institut Mittag-Leffler, Stockholm, May 2014
Summer school, Randomness in Physics and Mathematics, ZIF Bielefeld, August 2013
Trondheim Spring School in Point Processes and Complex Analysis, NTNU, May 2013
St Petersburg School in Probability and Statistical Physics, Chebyshev Laboratory at St. Petersburg State University, June 2012
Updated on August 31, 2022